1500mg CBD Oil "Whole Plant" Full Spectrum Hemp (Contains THC)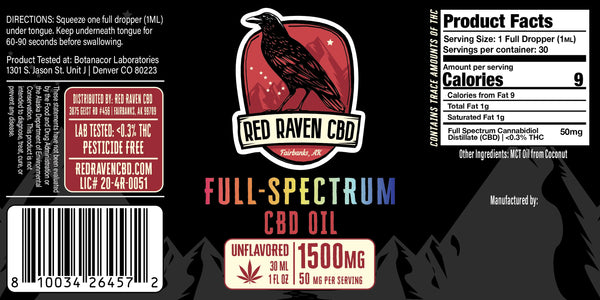 Our Full Spectrum CBD Tincture is a "whole plant" hemp extract that contains 1500mg of CBD per bottle, as well as other minor cannabinoids present in hemp like CBC, CBG, CBN and Delta-9 THC (<0.3%). Studies have shown that these compounds work together to benefit our bodies much better than CBD working alone, so this is truly our strongest (and most economical!) hemp product per dose.
CBD Oil is a convenient and highly-effective method for daily supplementation. Hold under your tongue for 60-90 seconds to experience faster absorption and higher bioavailability. You can also add CBD oil to almost any food or beverage recipe to make your own delicious edibles!
50mg CBD per mL. Suggested dose is 0.5-1mL (25-50mg) per day.
Non-Psychoactive
<0.3% Delta-9 THC (~1mg THC per dose)
Non GMO 
Vegan Formula
Made in the USA
Made with Organically Grown USDA Hemp
Third-party lab tested for pesticides, heavy metals, microbes and solvents (QR code on every package links to lab results)
1500mg tinctures are 1oz (30mL)
There will be trace but legal amounts of Delta-9 THC in the product (under 0.3% THC). If you are subject to drug testing or otherwise sensitive to THC, try our Zero THC CBD Oil Tincture.
Ingredients: Full-Spectrum CBD Distillate, MCT Oil
Peppermint flavor adds: Natural Peppermint Essential Oil