CBD Freeze Cooling Gel, 750mg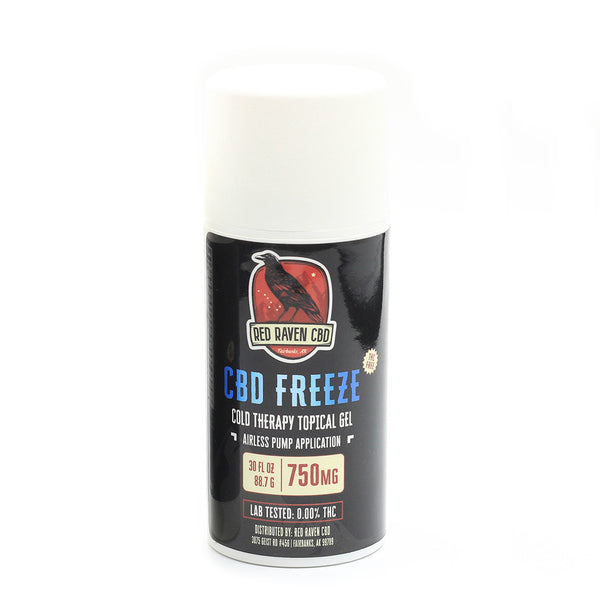 Did you know that our bodies are loaded with "weed" receptors, including covering every inch of our skin? This means that CBD can be absorbed topically and is being studied to benefit things like eczema, pain, arthritis, acne and healing aging skin.
Red Raven CBD Freeze Gel combines a light, cooling gel with the power of high dose hemp-extracted CBD for deep muscle relief. Aloe Vera, Arnica, Tea Tree Oil, and Menthol create a cooling sensation to numb pain, which is followed by a warming sensation to relax it away! Our CBD Freeze gel dries quickly and absorbs completely without leaving a residue. 
Zero THC (0.00% THC)
750mg CBD isolate
100mL (3.3oz) pump or roll-on
Non-Psychoactive
Made in the USA 
Made with Organically Grown USDA Hemp
Third-party lab tested
Directions for use: Push down on pump or apply with roller. Start with a quarter size amount and apply more as needed. Apply to areas experiencing pain and/or inflammation. DO NOT use this product around eyes or delicate areas.
Please store your container in a cool, dark place.
Ingredients: CBD Isolate, Aloe Vera, Arnica, Menthol, Tea Tree Oil, Ilex Paraguariensis, Carbomer, Isopropyl Alcohol, Phenoxyethanol, Camphor, Aqua, Ethylhexylglycerin, Tocopheryl Acetate, Triethanolamine.